Software for Non-Contact Measuring System
Image Measuring Software
The SI software has the user-friendly operation interface for multi-purpose measuring tools. This diverse and convenient gathering tool can conform to many current ways of measuring work pieces in complex industries, which gives the user a fast, accurate, and complete measurement.
SI-102 Cross-Hair image measuring Software
SI-102 Cross-Hair image measuring Software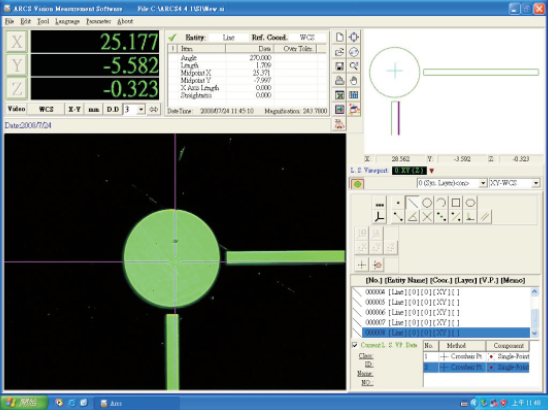 It comes with the Windows-based operation system, which is simple
and easier for user to install.
Measuring Functions:
Complete Report:
Methods for image process:
It could offer Normal/Gray/Binary/Edge
Four Filters and good for different working
Piece measurement.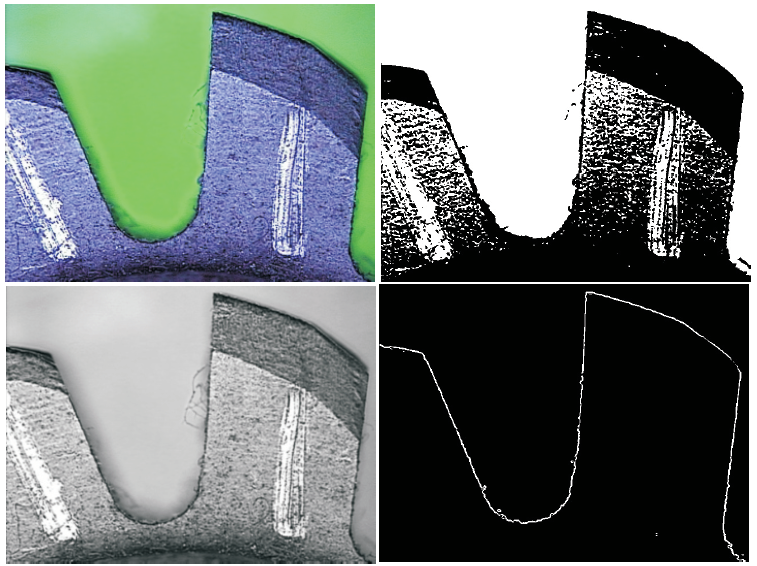 Show Cross-Hair and Aux Line:
It could simulate the comparator
Function and get the angle directly
File Format:
Import / Export DXF File
Import / Export SIF File
Import / Excellon File (For SI-901A)
Manual Auxiliary Focus:
This function could reduce the error by people.
SI Format:
It has a reminder function, so the user does not need to remember the original Point and positions of the axis.
SI-101 Multi-function image measuring software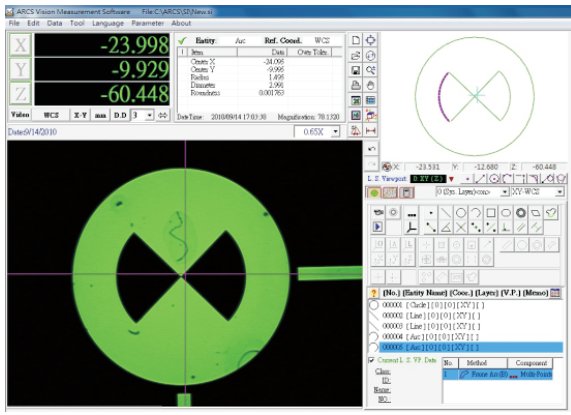 Measuring Functions:
Dimension Remark and CAD elementary drawing
Dimension Remark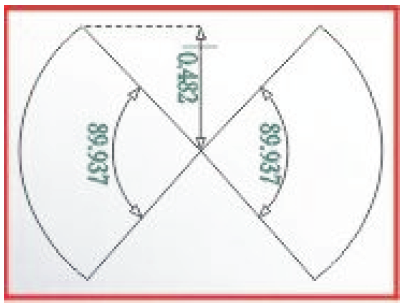 The measuring tolerance setting function can facilitate the data judgement
Program Guidance:
The user only needs to follow the guidance to finish the measurement. It doesn't need the special operator.
3-Dimensional Diagram:
The user could depend on the measuring graphic to select the Top View, Front View, Side View or ISO View.
Easy and Fast measurement function:
The function of Move/Rotation/ Array/Mirror could help the user to measure the complicated or Multi-entities working piece in short time.
Scan Function:
Post-Process for scan image of points
It could scan the shape of the working piece and correspond to current CAD Reverse Engineering.
Sample: Gear
Dimension Remark on the image
It could remark the dimension on the image for the complete working piece and save in JPG format.

Sample: Gear
Customize inspection Report
SPC Report
SI-301 Semi-Automatic Image Measuring Software
Automatic-adjustable surface (24 Sections) and Contour illumination. For Automatic coaxial zoom lens attached coaxial light.
AF Series: Auto Focus Function
AZ Series: Z-axis automatic
SI-901 Automatic Vision measurement Software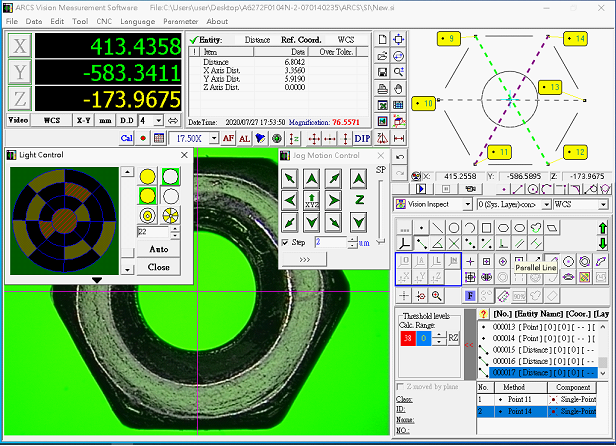 Multi-Sections (26 Sections) adjustable light control. 24 Sections Surface, Contour and coaxial illumination
Auto Focus and Auto Light
Jog Motion Control
SI-901A : Import Excellon File
This is the File Format for Drilling program of PCB Industry.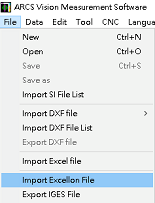 SI-901B: With Touch Probe Function
SI-901C: With Rise Shrinks Bracket Function
For Observation and Analysis of the Distribution Pattern on Drilling Holes of PCB.
SI-901D: With Image Capture Function

SI-901G: With Laser Measurement Function
Features of SI Software
Cross-hair image measuring software

Multi-function image measuring software

CNC Vision image measuring software

CNC Vision image measuring software

CCD capture for motion image

Graphics zoom in. zoom out. pan and zoom all

Export the measurements to EXCEL

Print out the Report (Graphic and Data)

Drawing and Data-Undo/Redo

CAD Function-Simple Drawing and point

CAD Function-Simple Modification: Cutting and Extension

Switch the Measuring Coordinate

Setting origin and Skew the axis of coordinate system

Switch the Display/Figure Area

Load a saved or an existing image file

Magnification Calibration

Program Teaching/Multi-Sampling

Z axis auxiliary focusing function